I'm sure you've heard how important it is that your website be listed on the first page of search results for search engines such as Google, Yahoo, and Bing.
Here's why. When someone is looking for information, they won't waste much time going past the first page of results from the search engine. Did you know that only 5% of searchers ever click through to the second page of search results? Even more staggering, very few every scroll down on the search page, meaning they only look at the top 5 results. (Source)
Your goal is to be on the first page of the search-engine results. Even better, you would like to be listed in the first two results for your keywords.
Let's take a look at how to accomplish this seemingly insurmountable task.
The Name of Your Website
It is best if your keyword is in the name of your website's url, or web address.

If your url does not contain your main keyword, then you're going to have to work extra hard on the following points, to be sure that you still rank on the first page in the search engines.
The Page Title
Each page has a title that appears at the top left of your visitor's browser screen.

The page title is also the first thing seen in the search-engine results.
Your goal is to convince potential visitors that your website meets their needs.
Limit the title to 6-12 words in length.
Use your keywords at least twice in the title. Three times is even better.
The Page Description
The description appears in the search engine results, immediately after the title.

This is your final chance to convince potential visitors that they should check out your website.
Use 25 words or less.
Use your keywords as many times as possible.
Use the description as an opportunity to connect with potential visitors emotionally. Use action words and feeling words, such as "free" or "save."
Keyword Density
Throughout the entire page's content, your keywords should be used more times than any other words. The best time to plan this out is before and while you're writing a new post.
In addition, be sure your keywords are included in the page's headings. You particularly want your keywords in the h1 and h2 headings.

You can check the keyword density of a particular page with several free keyword density tools available online, such as this one from SEO Tools.
Links
The final piece to help a page rank higher in the search engines is to ask others to link to it. Why is this? The search engines feel that if others value your content enough to link to it, it will probably offer true value to your visitors. In fact, if two pages offered exactly the same kind of quality content, with keywords included in the website URL, the page title and description, and throughout the content — links would be the tie breaker between the two.
It isn't necessary to have a large quantity of links. However, the quality of links matters.
The best links are from websites that are similar in topic to yours.
The best links are from websites that are active and currently being updated.
The best links are reciprocal, meaning that you also link back to the other website from your page.
The bottom line is that you can't cheat the search engines. You need to develop real relationships with others online. This can't be faked!
Examples for this Blog Post
Before writing a page or post, brainstorm possible keywords. Make a rough outline or mindmap of what you want to say.
After writing your post in WordPress, then check your keywords again with a keyword density tool.
Next, choose a good page title, and write your page's description. If you're using the Genesis theme on WordPress, you can add the title, description, and keywords below your post.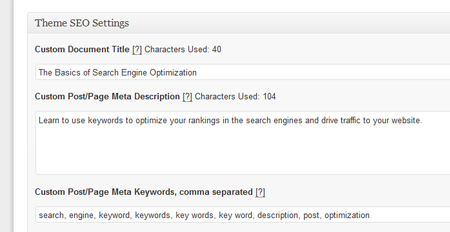 Resources