"Fitness Fact: At the beginning of the 20th Century, people had no computers, and next to no automation. Human "muscle power" provided at least 33% of the energy needed to run the farms, homes, and factories. Today, in our high tech world, human "muscle power" provides only .05% of the energy needed to keep things going!"

(Source: Gotta Minute? The Ultimate Guide of One-Minute Workouts for Anyone, Anywhere, Anytime! by Bonnie Nygard and Bonnie Hopper, p. 43.)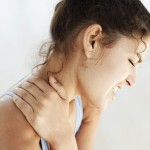 Working as web designers, graphic designers, and writers, those of us at e9designs have discovered how much our backs can ache by the end of the day. In fact, as I write this, I've noticed that my upper back is starting to ache, probably because my head is leaning forward to view the screen on my laptop.
Just yesterday, I was intrigued by the following two articles at MakeUseOf, a blog I love to read:
The second article in particular showed how the author had actually built a custom desk so that she could stand up while working at her computer, to alleviate her sore back. I might need to try this!
I've been trying to set a timer to take a break every 30-45 minutes, so that I can do the following:
Stretch up to the ceiling, then down to the floor.
Stretch my arms out, squeezing my shoulder blades together, then wrapping my arms around myself (like I'm giving myself a tight hug).
Slowly roll my neck around, in both directions, to get the kinks out.
Lift my toes up and down, to stretch the muscles in my feet and legs.
Walk to the other room to get a drink, or step outside for a few moments to get fresh air.
Climb stairs briskly.
Talk on the phone or interact with co-workers.
What actions do you take (literally!) to keep your body from aching?