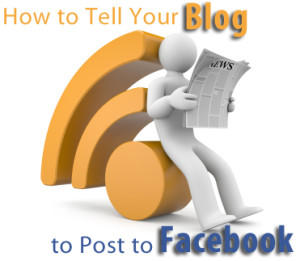 When you write new posts for your website, it's very convenient to want to post them to your social media pages, so that you can let all your fans know about your updates.
Blogs posts are different from website pages because they notify RSS feeds each time you write a new one — which can then potentially tell all your RSS subscribers that you've posted, which then means they'll want to read your new content. (Not sure what an RSS feed is? Here is more information.)
Your WordPress blog automatically comes with an RSS feed, although you might have fancied yours up with a FeedBurner feed. (I highly recommend this, and if you're using the Genesis theme, you can plug your FeedBurner feed into your Genesis settings.)
But what if you'd like to tell all your Facebook friends that you've written a new blog post? Of course, you can tell them by manually going to your company's Facebook page and posting an update. This isn't all bad, because you can write something personal with your update, which can inspire friends and fans to click on your link. (I recommend shortening the link to your blog with bitly, so that you can track how many people click on your Facebook link.)
However, if you write blog posts in advance (a wise practice), you might need a time-saving way to remember to tell your Facebook fans about your posts. Sadly, Facebook has stopped allowing you to automatically post from your RSS feed.
So here is a "hack," or a way around the system. It takes a bit to set up, but it should work after that.
You'll need a Twitter account, if you don't have one already.
Set up a TwitterFeed account. http://twitterfeed.com/ More info on how to do this at http://www.wikihow.com/Add-an-RSS-Feed-to-Twitter
Then set up Twitter to post automatically to Facebook for you. https://support.twitter.com/articles/31113-how-to-use-twitter-with-facebook#
One final piece of advice. I highly recommend making sure each of your blog posts has a nicely sized "featured image," preferably 300px or wider. Images will help grab your Facebook fans' attention better than just a text-based message. Besides, your visitors might be inspired to share your images and posts with other social media sites as well, such Pinterest and Google+.